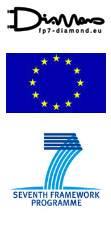 FoREnSiC
is a
Fo
rmal
R
epair
En
vironment
for
Si
mple
C
.
The tool contains a bundle of several engines implementing various techniques to automating error localization and correction for C/C++ programs. The techniques implemented are not purely formal but range from simulation-based methods to semi-formal and formal ones.
The value of FoREnSiC is not only in its different back-ends. FoREnSiC can also be used as a framework for implementing new program analysis, verification, and debugging techniques.
FoREnSiC contains a powerful front-end which is able to transform a C/C++ program into a very simple graph-based representation. It also provides data structures to represent logic formulas. Logic solvers such as SMT-solvers are accessible via simple interfaces to solve these formulas.
Download
References
[BDF+:2012] R. Bloem, R. Drechsler, G. Fey, A. Finder, G. Hofferek, R. Könighofer, J. Raik, U. Repinski, and A. Sülflow: "FoREnSiC - An Automatic Debugging Environment for C Programs", HVC 2012.
Download Tool Paper
[KB:2011] R. Könighofer and R. Bloem: "Automated Error Localization and Correction for Imperative Programs", FMCAD 2011.

[RHJ+:2012] U. Repinski, H. Hantson, M. Jenihhin, J. Raik, G. Di Guglielmo, G. Pravadelli, and F. Fummi: "Combining Dynamic Slicing and Mutation Operators for ESL Correction", ETS 2012.

[KB:2012] R. Könighofer and R. Bloem: "Repair with On-The-Fly Program Analysis", HVC 2012.

Contact
Please contact Rolf Drechsler in case of more information about the tool and/or problems at
drechsler@uni-bremen.de
Notices
FoREnSiC has been developed within the DIAMOND European project, contract number FP7-2009-IST-4-248613 (
http://www.fp7-diamond.eu/
).
License
FoREnSiC is published under GNU Lesser General Public license as published by the Free Software Foundation
©2011-2013 by University of Bremen,
Graz University of Technology, and
Tallinn University of Technology.
All rights reserved.