Head of The Group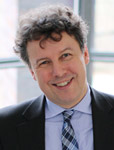 Rolf Drechsler
(0421) 218 - 63932
MZH 4330
The Group of Computer Architecture (AGRA) offers lectures for Bachelor and Master students in Computer Science and Systems Engineering. Besides the lectures for graduated and undergraduated students, we offer student team projects to enforce research-oriented learning.
In research, computer-aided design (CAD) of circuits and systems covering synthesis, verification, test, and reliability are the main topics.
Scientific publications of the research group
at international conferences and in renowned journals can be found under the corresponding headings on the homepage.